As with any list that attempts to profile the "best of the best," there is a lot of room for discussion, interpretation, and even disagreement. We hope that you enjoy reading about our top seven opening tee shots in the world of golf, and we hope you take a moment to share your thoughts on your favorite opening tee shot. And, most importantly, we wish you great experiences in your golf travels. When you stand on that first tee of your favorite opening tee shot, stare that fairway down and hit it right down the middle!
With that, here's our list of the top seven opening tee shots!
#7: Machrihanish Golf Club, Scotland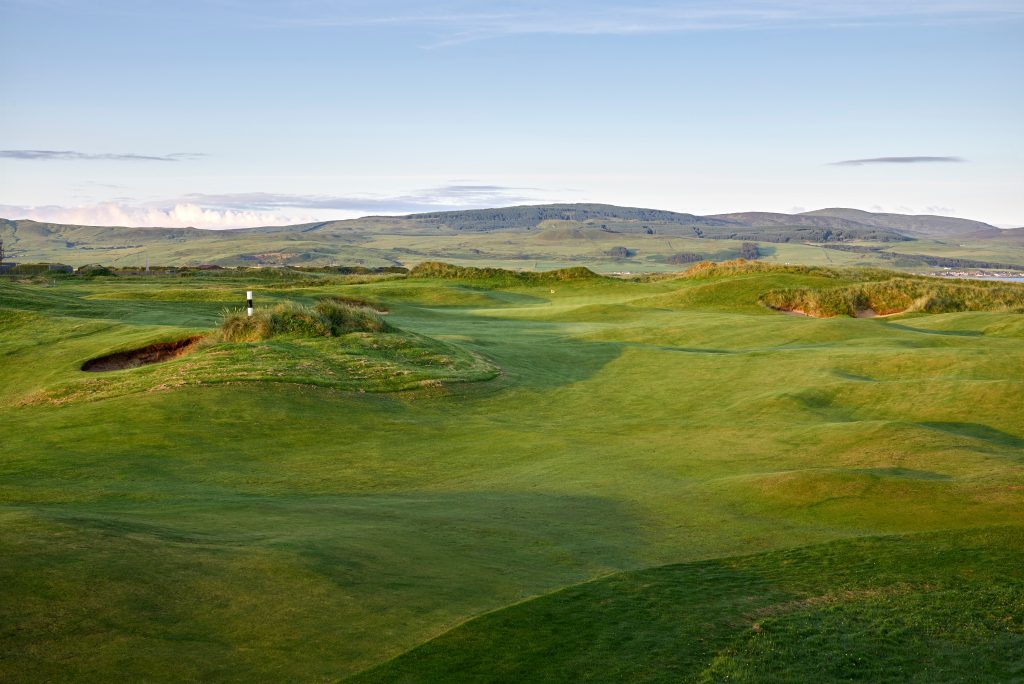 You've come down the long and winding road romanticized in the ballad by Paul McCartney (who has owned a farm near Campbeltown for decades.) Maybe you've arrived on a ferry to the Kintyre Peninsula or come by chopper. Perhaps you caught one of the daily flights from Glasgow Airport, but doubtful you've jetted in after your round at Machrie, like Prince Andrew did in 2005 to hit a few ceremonial drives off the new Tiger Tee.
However you arrived, it's because you've heard about the daunting opening tee shot at Machrihanish Golf Club. Founded in 1876 and designed by Old Tom Morris, Machrihanish delivers a big dose of sheer exhilaration and trepidation in equal measure as you start your round. Definitely a big one on anybody's bucket list! And yes, even YOU are a little jittery now that you're faced with having to carry the Atlantic Ocean to reach the fairway. Low tide or high, brisk wind or not, astonishing beauty aside, you'll never forget this shot.
#6: Ardglass Golf Club, Northern Ireland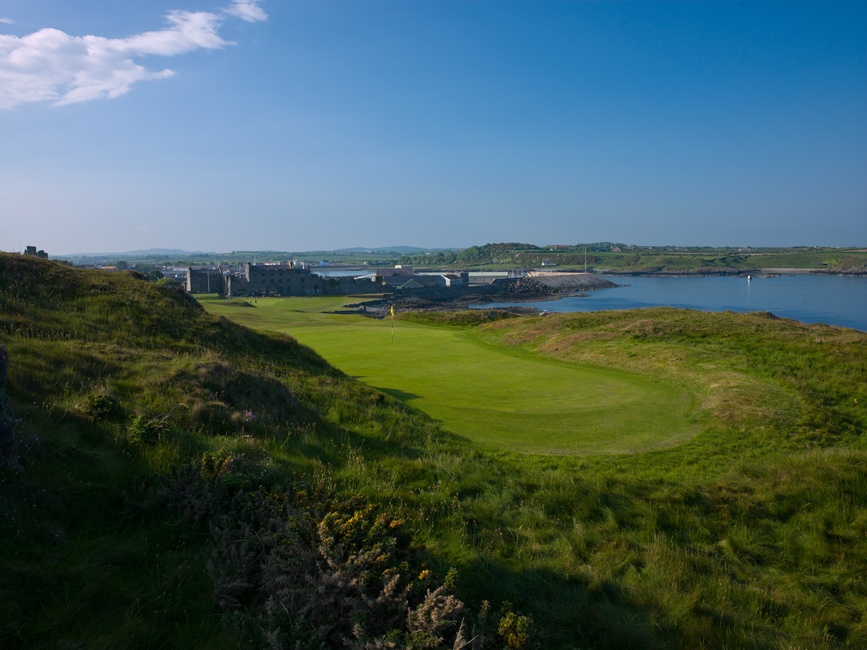 You're standing with your back to a 700-year-old castle, which doubles as the oldest clubhouse in the world. You're perched on a first tee that has the Irish Sea on your immediate left. You're staring straight ahead to the first fairway, which sits beyond a 40-foot deep, 100-yard long sea canyon of wave-splashed black rock that must be carried in order to reach safe ground. The fairway ascends gradually and, seemingly, to the clouds above hanging in the azure sky. Throw in a few nearby spectators or a group waiting to tee off behind you, add in the normal first tee jitters, and what are you left with? One of our favorite opening tee shots in the world of golf. But don't let the pressure sink in too deeply! No matter how you hit that first shot, the friendliest folks in the world will be waiting with a pint of Guinness when you reach the 19th!
#5: Pebble Beach Golf Links, California, USA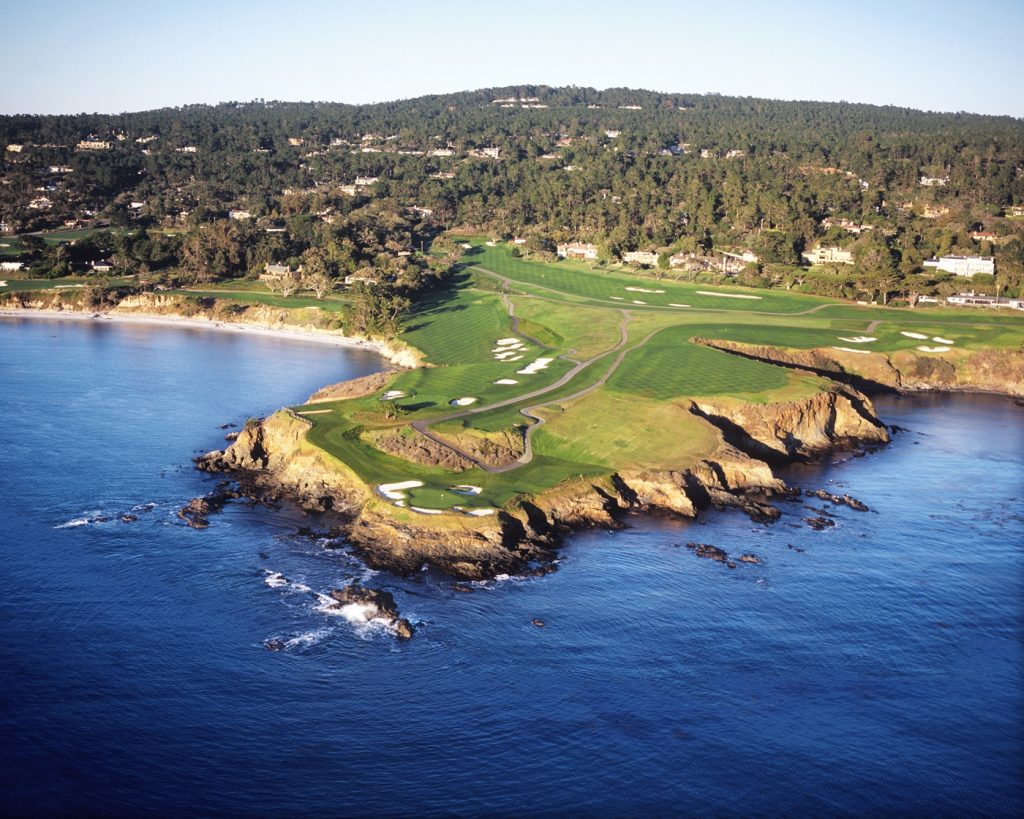 To be fair, the actual shot that you're about to hit on the first tee at Pebble Beach is not very intimidating, or even all that difficult. A left to right Par 4 to an inviting green that offers a great chance at a par or, if executed well, a birdie. But it's Pebble Beach! And you're finally here! You've just been reading the plaques on the wall behind the first tee, listing all of the former champions of the famous Bing Crosby Clambake. The iconic clubhouse is just to your left, the Tap Room and its famous prime rib chili is a mere four and a half hours away, and perhaps the coolest 18th hole tee shot in the world is waiting for you… out there. So yeah, this is no ordinary first tee shot you're about to strike; your quickening pulse and sweaty palms reinforce that thought. But hey— you're finally here! Tee it high, let it fly, and let's get this party started!
#4: Ballybunion Golf Club— Old Course, Ireland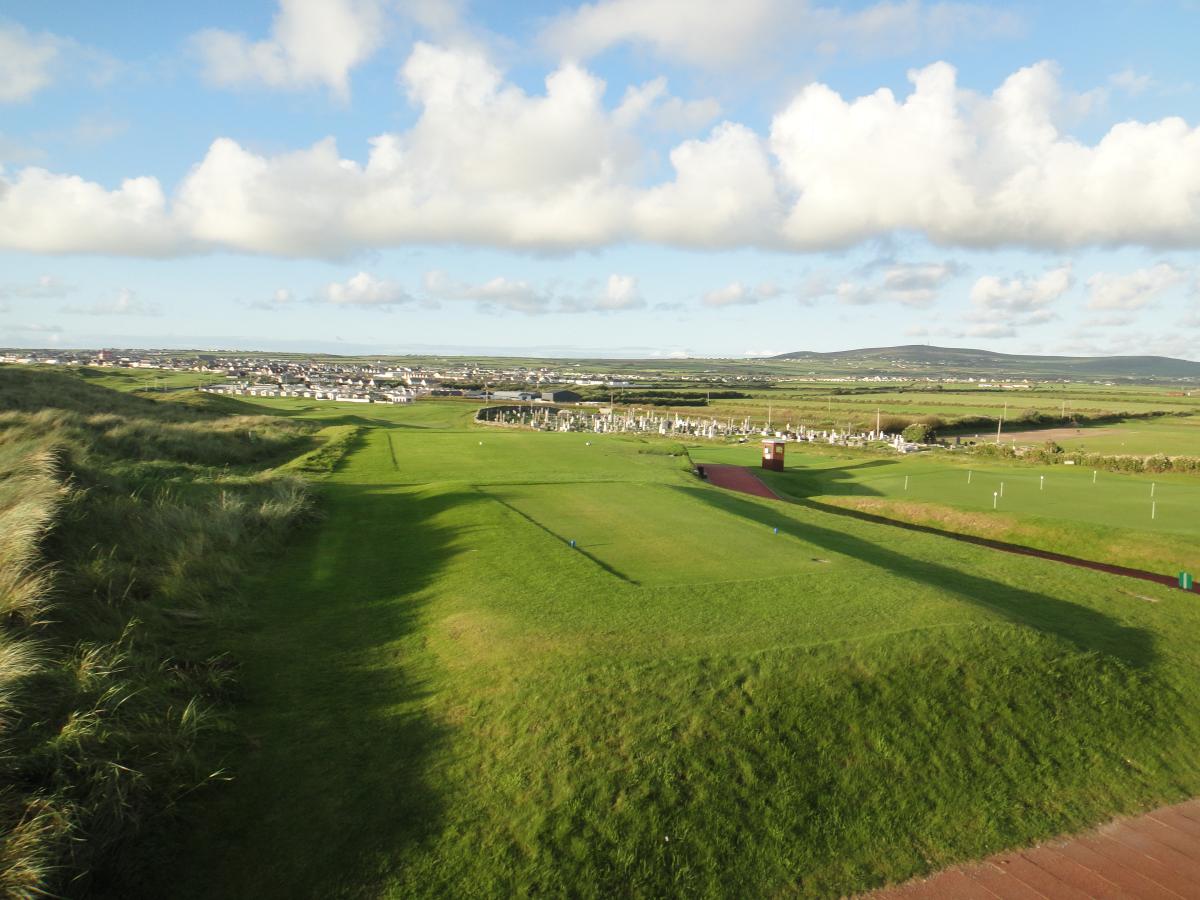 You stand on the first tee at Ballybunion and you survey the cemetery that borders the fairway on the right side for the first 200 yards. You notice the strong left to right wind. Suddenly, your thoughts race to where you don't want to hit it instead of where you should hit it. You're reminded of what President Clinton said about Ballybunion: "It's perfectly Irish: beautiful, rough, and a lot like life— you get breaks you don't deserve, both ways." Good breaks, bad breaks, no breaks at all, there's no way you can start off your round by piping one in a cemetery. That's just not right. Your caddie gives you a line that seems to be left of England. It's because he sees the nervous sweat on you, even though it's 65 degrees. But then, sanity and reason prevail, and you line it up, stare down the fairway, and… yes! You're on your way to a magnificent round of golf on a Bucket List course. Yes, what a great first tee shot this is!
#3: Portstewart Golf Club, Northern Ireland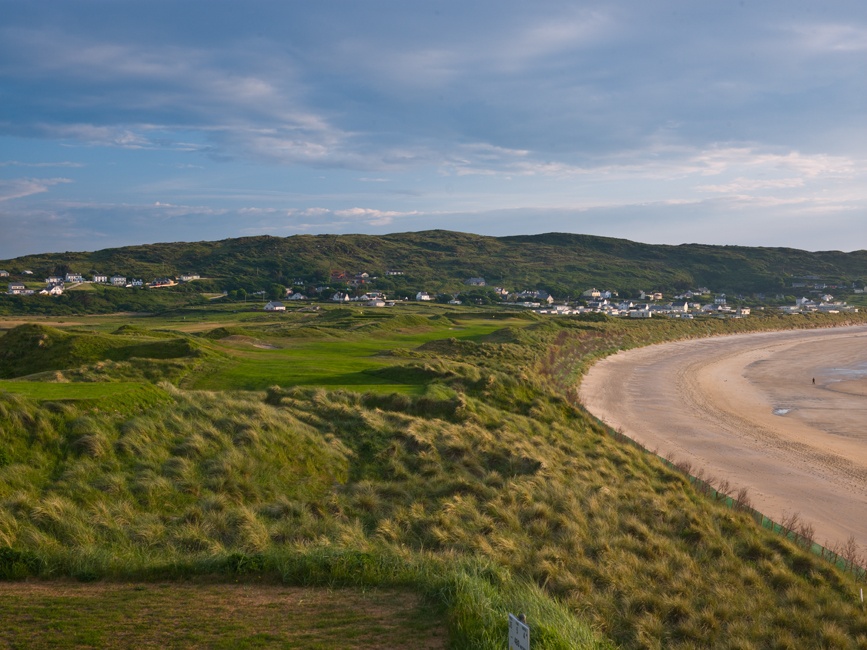 There are many who would make the case that this is THE BEST opening tee shot in the world, bar none. It's a legitimate debate, and while we don't have it at #1, it's an extremely close, perhaps photo finish, three horse race in our top 3. To say you're perched high upon the first tee doesn't do it justice. You're seemingly eye-level with the clouds, surveying the battlefield below with monstrous dunes framing the first fairway and exhilarating views of the sea stretching for miles on end. In moments like these, with views like this, with a course like that ahead of you with all its wonder and joy, waiting to envelop you, you wonder why you don't do this everyday for the rest of your life. Come to think of it, maybe you will… but first, let's hit this magnificent first tee shot. On you go!
#2: Royal Dornoch Golf Club, Scotland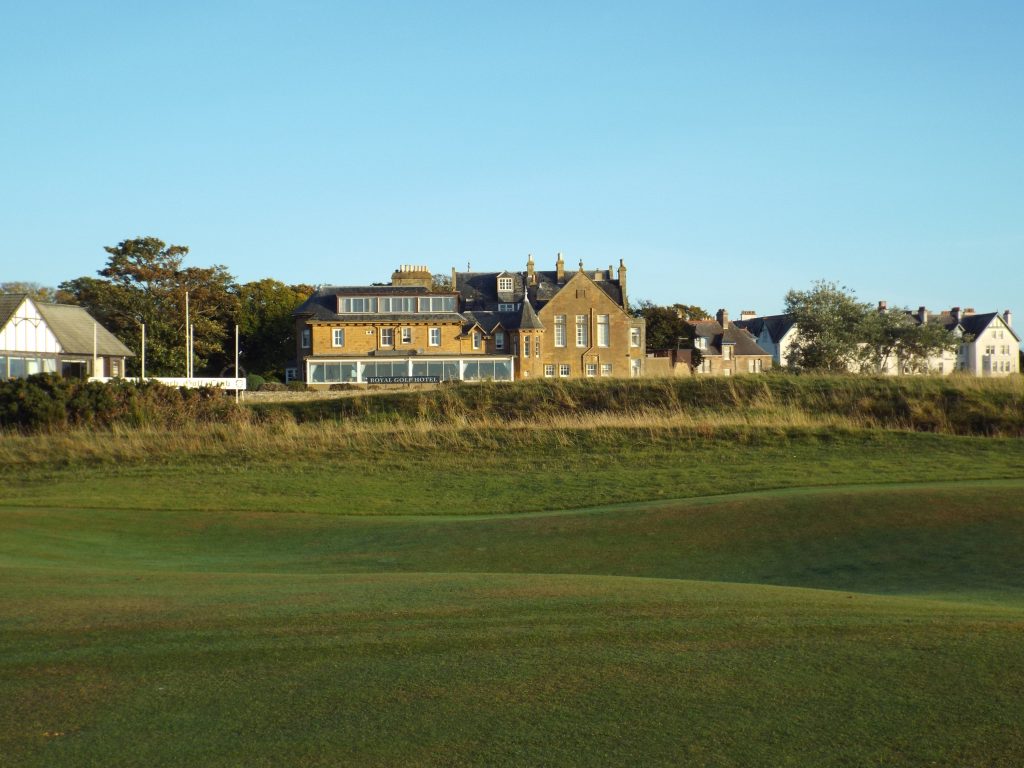 Personal bias alert… this is our favorite golf course in the world. It's no surprise that the first tee shot makes our Top 2. But journalistic and golf tour operator integrity keeps us from positioning it at the top spot— more on that in a minute. The Royal Dornoch first tee shot… maybe it's the starter standing behind you with his scruffy beard and tartan kilt. Maybe it's the wee breeze and the gentle mist setting the tone. Maybe it's the fact that you've just walked down the stone steps a mere 40 yards away that led you from the Royal Golf Hotel to the first tee. Maybe it's the fact that you're playing a golf course that looks so natural that Old Tom Morris himself said, when he first viewed the property, "The Awmighty had gawf in his mind when he made this land!" Maybe it's the fact that five-time British Open champion Tom Watson said, "This is the most fun I've ever had on a golf course." Whatever the reason, you know you're on special soil here. Enjoy it, let it go, and smile while you do it. 
#1: St Andrews Links— Old Course, Scotland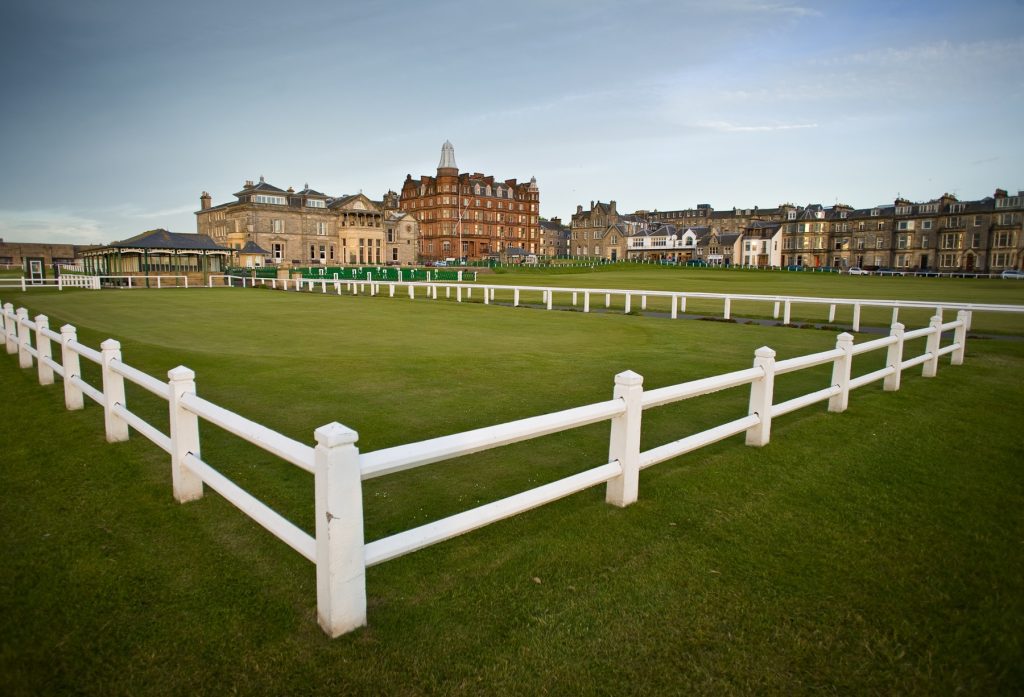 There's only one first tee in the world where we've seen tears roll down golfers' cheeks. There's only one first tee in the world where we've seen people's knees actually wobble a wee bit when they were told, "Play away!" There's only one first tee in the world where we've witnessed golfers' hands tremble as they attempted to steady themselves for their first shot of the day. There's only one first tee that can be our top first tee shot in the world: The Old Course at St Andrews. It's the home of golf. It's the mecca, the pinnacle, it's the hallowed ground, and when you step on that tee, the feeling is unmistakable and palpable. You've made the pilgrimage that every golfer deep in their heart seeks to make.
Let's set the scene: The West Sands beach on your right, the site of the famous running scene in Chariots of Fire, the unmistakeable R&A building behind you, staring over your shoulder as if to remind you of its place in golf history, the "Auld Grey Toon," as the town of St Andrews is affectionately known, just steps away. And, of course, there are omnipresent spectators because, hey— this is the Old Course in St Andrews, after all. If you're not a bit humbled and intimidated right now, check your pulse. But after that, take a deep breath and soak it in… you've arrived at the Home of Golf. Tee it up steady and give it a mighty blow. It's the most special first tee in the game, and you were made for this moment. Enjoy it.
Ready to start planning your next Bucket List Experience? Let's talk! Contact us today!